Download The Medical Professional's Guide to Identifying, Responding to & Removing Fake Online Reviews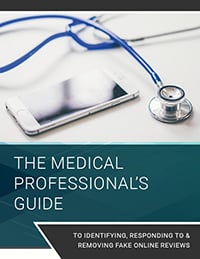 Are you or your medical practice the victim of fake online reviews and attacks? Do you want to better arm your medical practice against fake patient reviews?

In this practical playbook for medical professionals, you will learn:
How to spot a fake online medical review
How to respond to fake online medical reviews
How to remove fake online medical reviews


This medical practitioner's playbook will enable you and your medical practice to swiftly spot fake online reviews, respond to them accordingly, and remove them with a strategic game-plan in mind.